Events
Tree Lighting Ceremony
Saturday, November 22 from 6:00 - 8:00 p.m.
10th Annual Tree Lighting Ceremony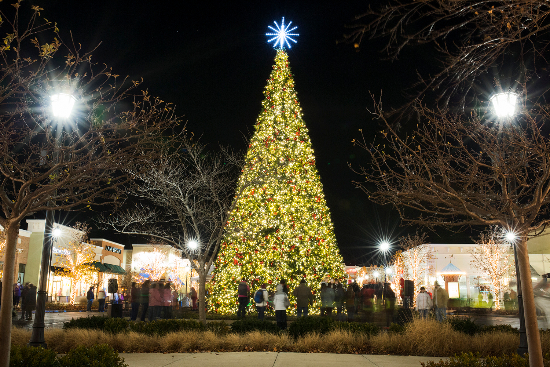 Dim the lights. Warm up your vocal chords. Get in the spirit. Join hundreds of your neighbors for the 10th annual Tree Lighting Ceremony on Saturday, November 22nd from 6:00 - 8:00 p.m.!
Kick off the holiday season with caroling, carriage rides, special appearances and 150,000+ Christmas tree lights make this a must see event.
6:00 p.m.- Santa and Mrs. Claus will make their way down the boulevard to Santa's house in their very own horse-drawn carriages.
6:00 - 6:30 p.m. - The Perrysburg Sophisticates will entertain the crowd with dance performances and baton-twirling in front of Starbucks.
6:00 p.m. to 8:00 p.m. - Santa will be available in his house for visits from children of all ages. Be sure to bring your camera and holiday wish list!
6:00 p.m. to 9:00 p.m. - Enjoy a horse-drawn carriage ride around The Town Center. Cost is $5 per person or $10 per family. Pick up is on Chappel drive, across from Schakolad Chocolate Factory.
7:00 p.m.- Stage events begin with performances by Julie's Dance Studio and live music.
7:45 p.m. - Caroline Williams takes the stage to perform her "Home for the Holidays" track.
For only being 17 years old, Caroline Williams has a voice beyond her years. Growing up in the backwoods just outside of Nashville, TN as the daughter of a musician and a writer, Caroline has been inspired by the world around her. She just finished her first 6-song "Beautiful Day" album, and while she enjoys being an artist, she is truly an all-around creative: a singer, writer, photographer and dancer.
She is also the voice behind the brand-new Levis Commons theme-song "Your Everyday Getaway", which will be performed this evening.
8:00 p.m.- The highlight of this magical night! We flip a switch and bring thousands of lights on the 50-ft tree to life at 8:00 p.m.!
Mark your calendars and call your friends and family! You won't want to miss this spectacular night and kick-off to the holiday season.